What's the point of having a blog?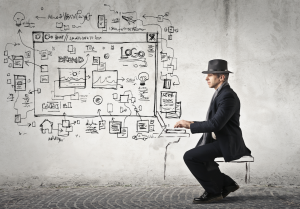 If you want to make more money online, you should consider studying blog creation. Business to business marketers with a blog get 67% more leads than those who don't. Blogs have been considered the fifth most trusted source of accurate online information.
Blog: A shortening of the term weblog.  It is created when people start logging their individual opinions, links to other sites, etc. on a regular basis.


Content

usually organized by date and category.  The most recent post/content displays first.


Before

you start blogging, choose a topic about which you are passionate and fairly knowledgeable about.
Free weblog maker?
Downsides to using a free blog maker:

Companies who offer "free" blog makers have to make money somehow. They may put ads on your blog. They may sell you upgrades.
May have severe restrictions.  E.g.: Not being able to advertise on your own website
May be able to make money blogging if you avoid the free blog maker
Blog hosting with a monthly fee
LiquidNet Ltd Hosting costs less but no advertising tools to help you make money blogging
I have been creating websites since 1996 and have had many different web hosts.  LiquidNet is my favorite.
Start your weblog today with these WordPress tips
One of Joseph Montes' Google Plus posts is full of WordPress blogging tips.  Read them on his http://elitemarketingpro.net weblog.
Glossary of Blogging
Wikipedia.org says: This is a list of blogging terms. Blogging, like any hobby, has developed something of a specialized vocabulary. The following is an attempt to explain…
Read more.
Wikipedia.org also says: As far as company-run websites go, niche blogs are an effective marketing tool due to their more organic, less sale-oriented nature. By providing useful content for users, like guides and user experiences, rather than just pitching sales, niche blogs encourage product and brand awareness, and are therefore popular in a range of industries as an addition to company websites.  Read more.
Free WordPress Plugins
Before you start blogging, you will want

Spam protection.  (I use Akismet.)
SEO (search engine optimization).  (I recommend and use Yoast SEO.)
A contact form (I use and recommend Contact Form to Email.) and
A sitemap to help the search engines find you.  Google XML Sitemap is recommended.

To get these features on your WordPress site, go to the free WordPress plugins page

Enter plugin subject into search box