How to embed Google Maps into a website
The following information is from a Google maps support page.
Open Google's Map page.
Enter the destination address in the search window & press Enter
Make sure the map, Street View image, or directions you'd like to embed shows up on the map.
In the top left corner, click the Menu icon ().
Click Share or Embed map.
At the top of the box that appears, click on Embed map.
Choose the size you want
Cmd C to copy the HTML embed code
Paste it into the source code of your website
Promote your business for free 
Google My Business is a service Google offers in order to promote their own business. Their website says, "Anyone can use Google My Business for free. Really, we mean it. "
To create a business account:
If you are developing websites for businesses, you often want to give them a Google map for their business. As part of the setup process, your client will have to give Google a verification code.
So, get your client's cell phone number and give them the heads up that they will be getting a verification code in a phone message. As you are registering the business with Google, give them your clients's phone number.
Your client should write the verification number down and get it to you as soon as possible.
Sign in to Google My Business.
Click the three dash menu icon  in the top left corner corner of the page.
Click  Create business account.
Enter a business account name and click Done.
Related pages
Go to the very important Ultimate Guide to Google My Business page. Learn how to combine Google Maps with Google My Business to get onto page 1 of the Google SERP.
Guidelines for representing your business on Google
Google My Business phone support
To find your latitude & longitude
Go to maps.google.com. Enter your address into search box & press Enter.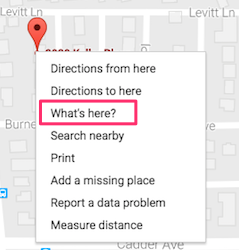 To find the latitude & longitude of pin on a Google map,
right-click on the pin & select What's here. Latitude & longitude will be at the bottom of the page.