Q. How do you change the password of a WordPress website?
A. 1.
In the Administration Screen menu, go to Users > All Users.
2. Click on your username in the list to edit
3. In the Edit User screen, scroll down to the New Password section and click Generate Password button.

4. If you want to change the automatically generated password, overwrite it in a new password in the box provided. The strength box will show how good (strong) your password is.
5. Click the Update User button.
This is done from the admin back-end of the website.
Q. How do you restore an accidentally deleted post?
A.
This must be done within 30 days of deleting a post.
In your dashboard, go to Posts > All Posts. Click on the blue word Trash above the list of posts.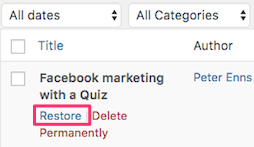 This will give you a list of all posts in Trash. Click Restore. You may have to click on your back button a few times. Within a short period of time your deleted post will show up.